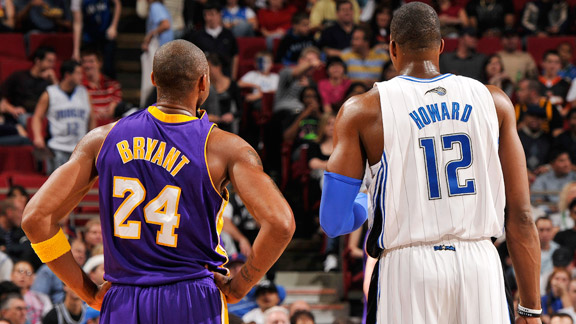 After watching the first game of the NBA finals you have to wonder who is better. Basketball will always come down to key players so let's explore.
Super Stars: Kobe Bryant or Dwight Howard
Dwight Howard is definitely a budding star however, let's not even spend to much time on this as Kobe Bryant is the complete package. The only way this changes is if Dwight is able to get all the bigs of the Lakers in foul trouble. One thing we can say is that it is very doubtful that Dwight will only score 12 points again.
Advantage Lakers love him or hate him the star is still shining bright for Kobe.
Point Guard: Derick Fischer or Rafer Alston
Rafer Alston you have to say has advantages with his speed and quickness however, Derick Fischer has proven himself in making good decisions late and taking care of the ball.
Advantage goes to the Magic quick point guards have been a problem for the Lakers all year.
Small Forward: Trevor Ariza or Hedo Turkoglu
Hedo Turkoglu is a lights out shooter and probably the second or third best player on the Magic. Trevor Ariza is a tireless defender and even when beaten does not give up on the play.
Advantage goes to Magic Hedo Turkoglu has proven he can hit shoots time after time. Also he is not likely to have a poor showing with points again. Trevors job is to keep him off the three point line.
Power Forward: Pau Gasol or Rashard Lewis
Rashard Lewis is more of a ball handler and better beyond the arc however, Paul Gasol has the advantange with his efficient scoring and creative passing.
Advantage again Paul Gasol with his passing and ability to score he is a no brainer. If Paul continues with playing good defense this is a good match in the Lakers favor.
With all that said there is a reason games are still played. The Los Angeles Lakers have a tendency to go from best to worst in the NBA as far a consistency especially with defense. If the Lakers can continue to play solid defense this should be easy however, this is the Lakers and the Magic are one of the best shooting teams in the league. Chances that the Magic will continue to miss alot of the open shots as with game 1 is not very likely. This game two should be more interesting than the first game.
Lakers vs. Magic: Sunday, June 7th on ABC 8pm EST
Good Luck to both teams,
UltimateeBookStore.com